So after the "Princess" got her extreme room makeover (Here) the eldest child also requested a makeover…a tinkerbell makeover.  That pretty much removes any shred of manhood I had left after the Princess' room makeover.  The things we do for love.  We removed all of the  furniture started with a fresh coat of paint…two tone…blue and bluer.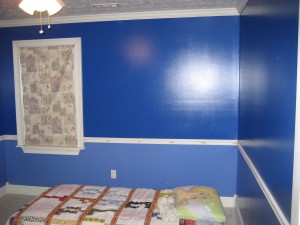 The room after painting.  Yes, that is just a mattress on
the floor (we removed the furniture to paint and prep).
Well, for those of you who do not know, Tinkerbell an her friends live in a forest, and in this forest there is a magic tree that creates all the pixiedust that allow fairies (and people) to fly. (Please do not ask me how I know so much detail about the life and times of Tinkerbell)  Anyway, I took the concept and decided on a loft bed that supposedly was this magic tree in  the forest.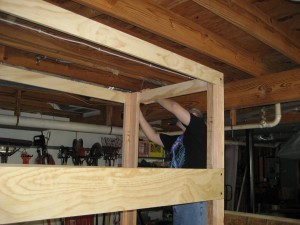 The loft bed taking shape.  Built with 7-layer plywood and 2×4's.
Also used professional furniture assembly bolts the likes you might find at IKEA.
 Being an overprotective father is hard work.  My girls like to play together and I was worried that the youngest would want to get in this bed to play with her sister and I was not confortable with her abilities to climb a ladder.  The solution…A grand staircase.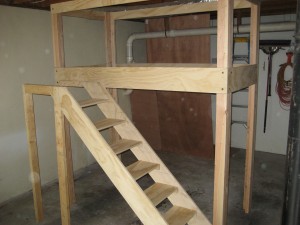 Completed loft bed (unpainted) with staircase.
 Now the party can begin.  Without going into excruciating detail, I used Visio to design a tree, then used an LCD projector to project said tree on plywood, and outlined in pencil.  Then the wife (who is also vary handy with tools) proceeded to spend hours (over the course of a couple of days) with a jigsaw cutting our the tree from the plywood.  Then it was just a matter of painting a basecoat of brown paint, and getting out the natural sponges for some faux ploomage.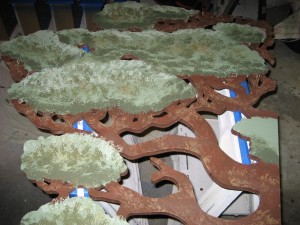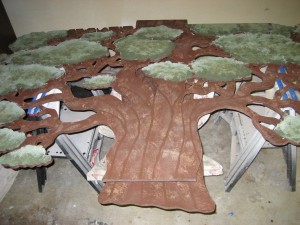 Painted tree (in sections for "easy" transport).
Well, you can't have a fairy treehouse without some birds, butterflies and ladybugs (Hobby Lobby!) so after the completed loft bed was assembled, it was "accessorized."  A chandelier in the room completed the look as well as a custom "lantern" chandelier with a flicker bulb inside (and a silhouette of Tinkerbell!).
So there it is.  Some glittery gold sheer fabric was added as curtains to the underneath of the loft  and these represent the "Pixiedust" emanating form the magic tree.  Stairs go up the backside to give the bed a "secret" entrance.  The trees act as side rails on the front and laced rope protects the backside giving it that "treehouse" feel.
Now, I am going to go work on my car in an attempt to recover some of my manliness!