OK, it's not really a kit, but there was a truckload of stuff after a trip to the local Home Depot.
I know people who have spent tens of thousands on their home theater and have spectacular results.  However, the number one rule of real estate is not to overimprove your home.   With this knowledge, I decided that my home theater would be elegant and fit the homes value range without being over the top.
I started with a 400 square foot portion of the basement, a wild idea, and an e-bay account, and an American Express.  Here is the before of the basement…
Supplies.  After a trip to the home improvement store to purchase supplies, I came home with what I call a REAL Home Theater in a Box!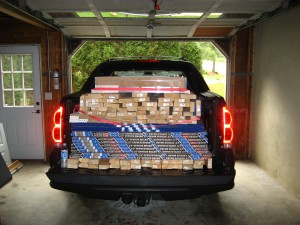 Framing the Walls.
2X4 studs installed isolated from the existing basement wall.  The Drylock on the wall acted as a vapor barrier so no additional vapor barrier was neccesary.  Soon, insulation and drywall will finish it out.  A soffet around the sides and rear of the room allow for mechanicals to continue to be asccessed for future maintenance.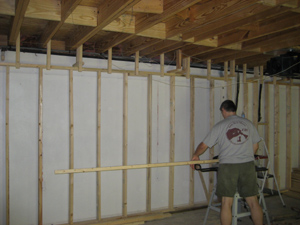 Raised Floor.
Since this theater will have stadium seating, a aised floor was required.  Significant drawings and calculations were performed to ensure proper signtlines for every seat in the theater.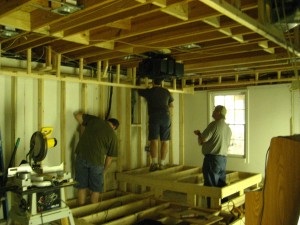 Ceiling Drywall Installation Begins.
Speaker wiring has already been run as well as recessed lighting and significant insulation for sound control.
Seating and Decor.
I was going for a modern interpretation of the art-deco style of theater.  Wall color was chosen to be dark but not dungeon-like.  Ceiling color is a navy blue so that it is dark but not black.  A satin finish was chosen to reduce glare but still be easy to clean.  Columns were made from 3/4″ MDF.  Portraits and movie posters adorn the walls. to add interest.
The ceiling and soffet design along with the columns are the core sound dissipation components meaning that there is little need for standard acoustical diffusion on the walls.  The flooring design also adds to the absorption thereby reducing reflected sounds.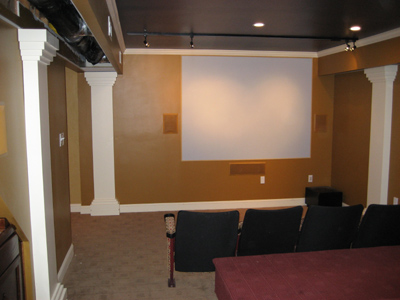 Hard Work and Good Planning Pay Off.
For the geeks who actually read this far down, here are the specifications:
-110″ Screen
-7.1 Surround System
-6″ In Wall Yamaha 2 Way speakers painted to match wall
-12″ 200 watt dual coil subwoofer
-800 Watts of Sound
-Seating for 11
-Digital Cable with HD Package
-Nintendo Wii system with custom sensor bar I designed and built right into the crown molding
-IR repeater system so equiment can be mounted under stairwell
-5 actual theater seats purchased form e-bay for $20 each and completely refurbished by me
-3 Home Theater Recliners black leather