The company I work for owns a large Radio network with literally thousands of affiliate radio stations across the United States.  The Technical Operations Center (TOC) is the hub of the network where all content broadcast over the network is aggregated from a variety of locations around the country.  This is content you may have heard of like ABC Radio New, Radio Disney, CBS Sports Radio, etc.  After over 30 years at its current location it was time to move to a new location.  This is a 24/7/365 high availability environment with any small outage causing a significant impact on our affiliates so it just can "pick up and move."  It had to be rebuilt in its entirety at the new location and services cut over one by one so as not to cause any delivery disruption.  I had the pleasure and honor of being the primary design engineer and project manager for the new facility.  There were a lot of talented and smart people maintaining the current facility and their input in the design process was critical to getting this right.  Here are a few photos and descriptions of the project.  There are a lot of details left out as this was a very long and detailed project, so I'll cover some of the cool stuff.
First, here are a few photos from the existing facility that was located at 125 West end Avenue in New York City.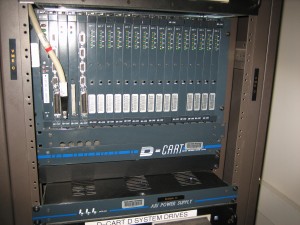 The old DCART system developed by Australian Broadcasting Company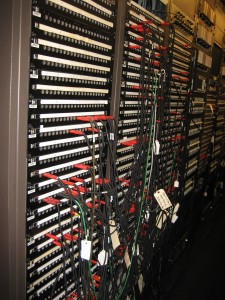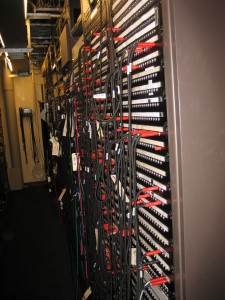 A couple of rows of endless analog patchbays!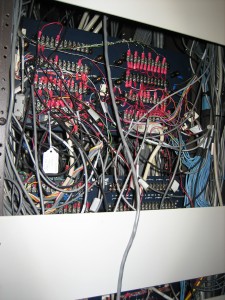 GPIO wiring.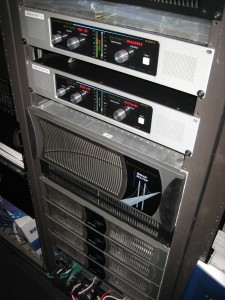 One of the TDM routers used at this location in addition to a SAS.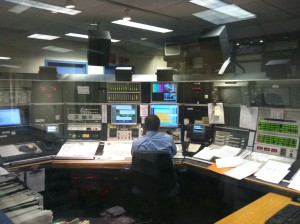 The old master control at 125 West End Avenue.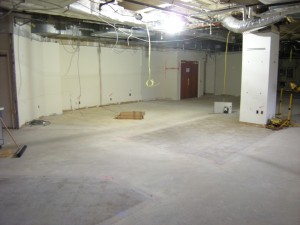 After some existing walls were gutted in the new facility, we can get a sense of the space for the new rack room.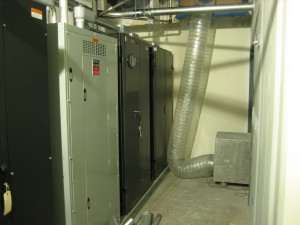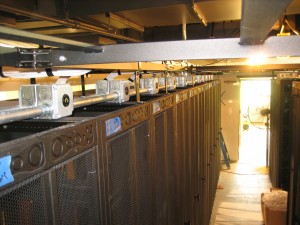 These photos show one of the two 100KVA load balanced UPS Battery systems as well as dual 30 amp 208 power to each rack.
Each rack has power fed from two different panels for complete redundancy in case an entire panel fails.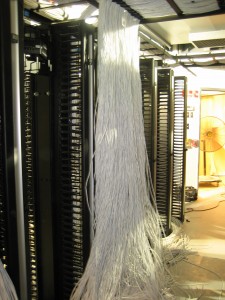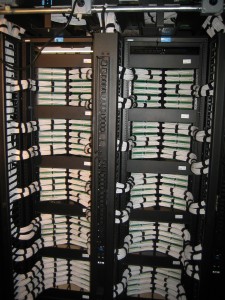 To facilitate a speedy equipment integration, all racks were prewired with 48 Cat-6 cables
home running to a central cross-connect rack (no wall mounted 66 blocks here!).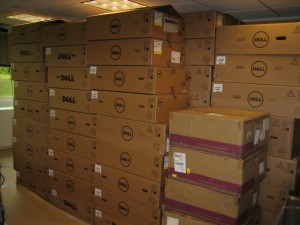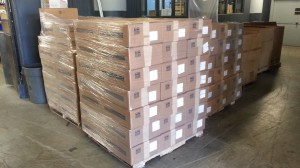 Equipment arrived on several pallets.  From servers, to broadcast equipment to rack accessories, it covered the entire range of what you would expect for a project like this.

Furniture installed for the new master control room.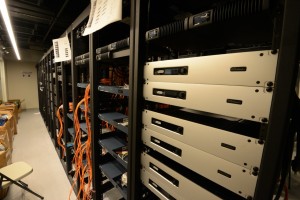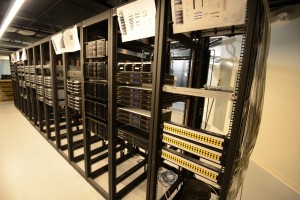 Racks are beginning to get populated with equipment.  A massive undertaking by itself.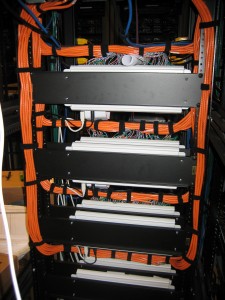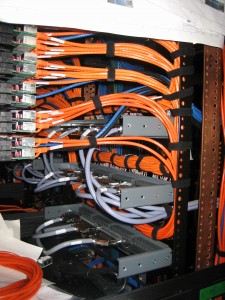 I cannot say enough about the team of guys we had come in from all of the country for this project.
It is always a pleasure working with people who take great pride in their work.
There is evidence of that pride in this GPIO wiring in the photos above.
More excellent wiring practices in the photos below.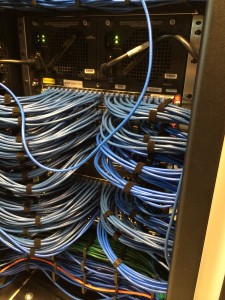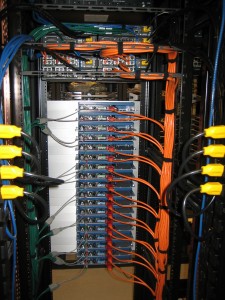 OK, the photo above has a wire out of place…but these photos were taken while the work was in progress.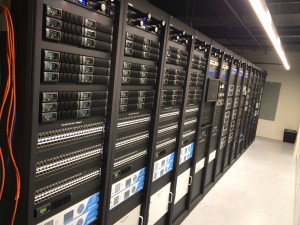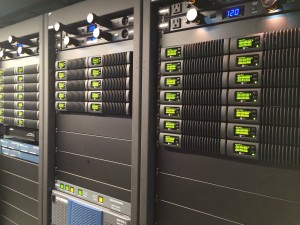 Now, if you are an Axia Livewire fan…that is a heck of a lot of xNodes!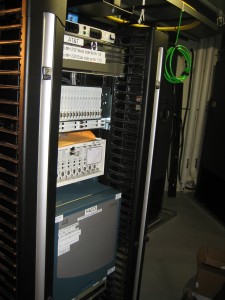 AT&T was kind enough to install an OC-12 Sonet ring right in the rack room for us.  Not only does it make the telecom wiring a breeze,  it makes the telecom connections (which are critical for content acquisition) very fault tolerant.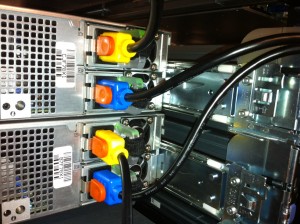 Did I mention the dual power in each rack…well using color coded power cables
helps keep track of it when performing maintenance.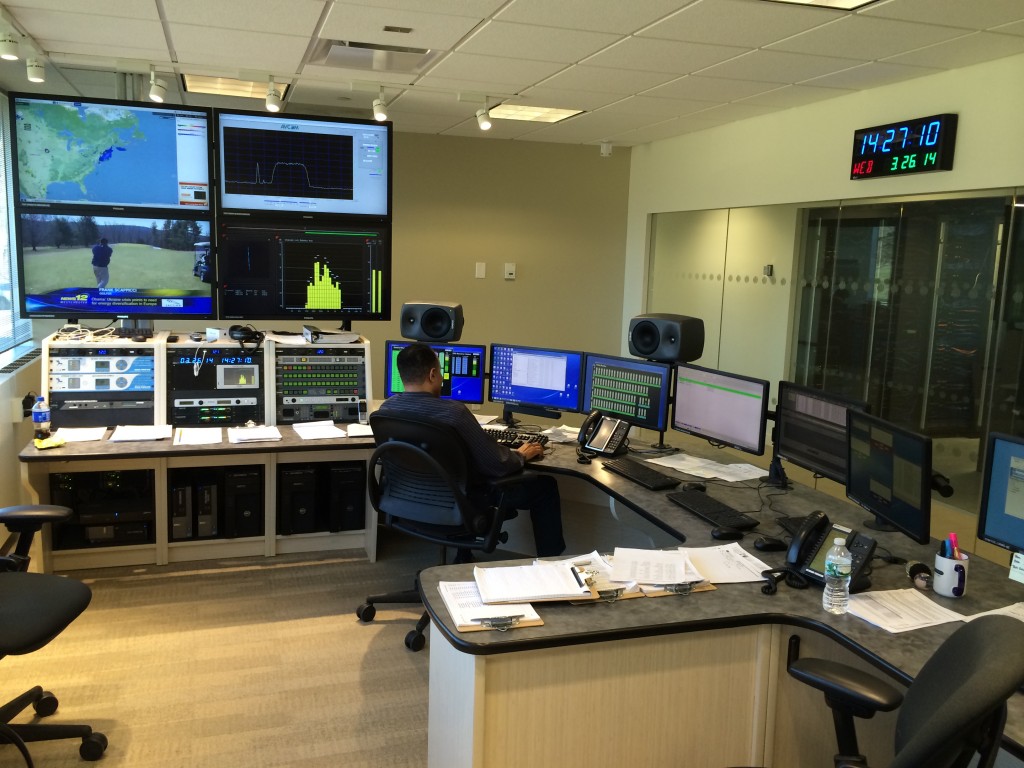 The new control room, completed and in full production service handling the network operations 24/7/365.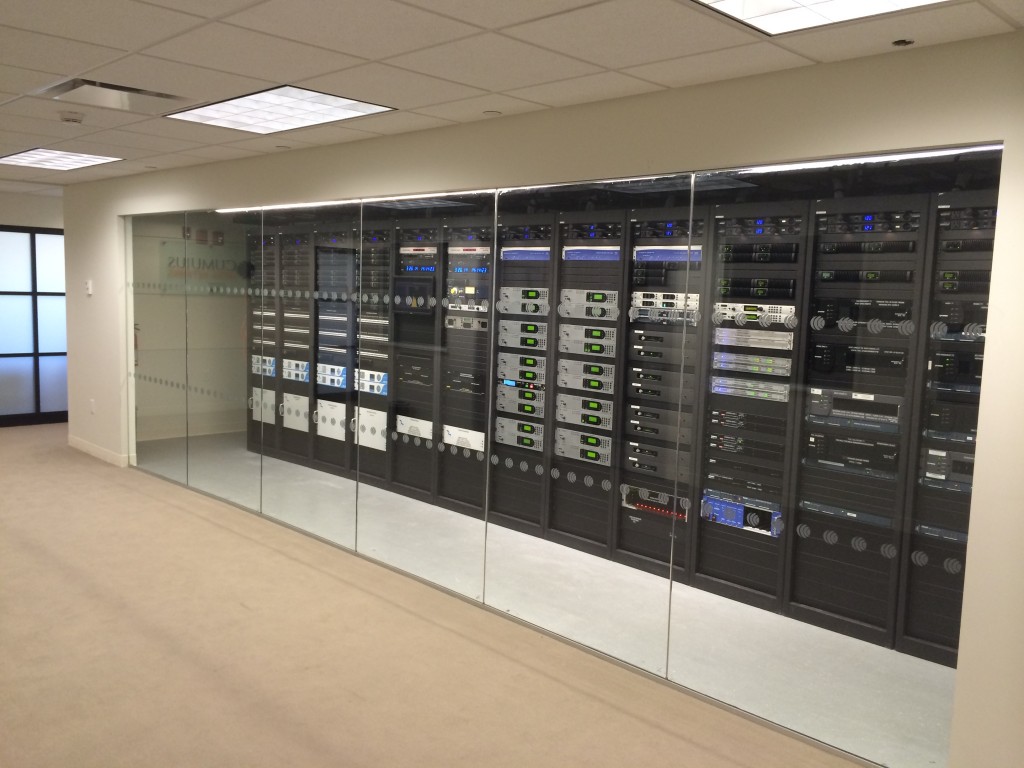 Beauty shot of the front row of racks behind the glass wall of the rack room.
This is what you see upon entering the main entrance of the facility.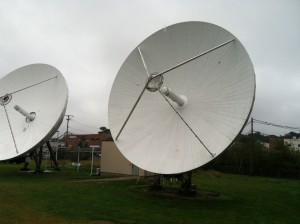 And for my engineer friends who get geeked out by this sort of thing…Uplinking is handled via an 11 meter dish fed by
Newtec modulators that receive the DVB-ASI encapsulated transport stream of the multiplexed MPEG-2
encoded audio streams encoded by the encoders in the front row of racks.
And for my non-engineer friends…NO, we cannot get free HBO on this thing.